Details
Sleepy Optiflex6V-MOTOROS  ágyrács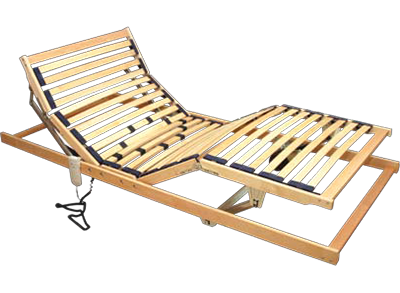 Az Optiflex 6V rugalmas motoros ágyrács többrétegű fából készült keretes ágyrács, átlagos teherbíróképességgel rendelkezik (130kg).
Állítható magasságú fej és lábrésszel rendelkezik, amit távirányító segítségével könnyedén állíthat.
A fej és a lábrész állításánál a Hettich Német minőségi motor hosszú ideig a segítségére lesz.
Az Optiflex 6V rugalmas H-motoros ágyrács kb.5,5 cm magas keretfával rendelkezik.
A 28 db keresztléc mindegyike 3,6 cm szélességű.
A keresztlécek megerősített műanyag tokkal kapcsolódnak a keretfához, valamint a derékrésznél található benne 5db állítható keménységgel rendelkező dupla rugalmas borda.
Többféle méretben rendelhető.
Terhelhetőség: 130 kg-ig

Funkciók: állítható, 2F+2L (fej-, derék-, 2x lábrész)

Ágyrács magassága: kb. 6,5 cm

Keresztlécek száma/szélessége: 28 db/36 mm

Tok: kaucsukgumi+műanyag – dupla és billenő

Ajánlott matracok: formahabos és latex matrac
Info
Article No.
slp-optiflex6v-motorC-132
Opinions
Be the first to review this product!